Specification
Segway Electric KickScooter ES2
Inokim Light 2
Maximum Speed
25km/h
25km/h
Net Weight
12.5kg
13.5kg
Max Driver weight
100kg
100kg
Maximum Range
25km
35km
Additional Add-on battery
Yes (+20km)
Not Applicable
Charging time
3.5 Hours
5 Hours
Water resistance
IP54
None
Tire Type
Large Solid Tires
Pneumatic tires
Brake type
Anti-lock brake System
Front & Rear drum brakes
App Control
Yes
No
Cruise Control
Yes
No
Ambient lights
Yes
No
Bluetooth
Yes
No
LED display
Yes
Yes
LTA Approved
Yes
Yes
Brand Background
17 Years
(Launched 2001)
8 years
(Launched 2009)
Market Price
SGD 799
SGD 1249
Inokim Light 2 extracted information from : https://www.falconpev.com.sg/products/inokim-light-2?variant=53810695445
Segway Kickscooter ES2 Extracted information from: http://segway.com.sg/product/es2-kickscooter/
Still can't decide which one to get? Not sure which will be worth it? Don't Worry we got you!
Here's why Segway Electric Kickscooter ES2 would change your mind!
Convenience and stability
No doubt, compared to Inokim light 2, Segway ES2 gets the upper hand here! With its inbuilt cruise control function, you can conveniently travel anywhere without tiring your hands out!
Furthermore, Most Segway ES2's weight is placed on it handlebar stem making easy to steer and increase your stability.

Ease of carrying when not riding
Though Inokim Light 2 and Segway ES2 comes into a close fight as both weighing just 0.5kg difference. Segway ES2 stands out due to its wireless design. Can you imagine getting your earphones or hair tangled up on the wires of the scooter while you try and carry your scooter from point A to Point B.
With Segway electric kickscooter ES2, with all its wires being internal, the design makes it look neat to ensure user comfort.
Minimum Charging hours
Inokim may have gotten the upper hand with being able to travel 35 km for a full charge. But its charging hours (5 hours) could give many a shock.
Travel away with your Segway Kickscooter ES2 with just 3.5 hours of charge. You can even add an additional battery to double your distance to 45km.The eco-friendly energy recovery system makes sure no power goes to waste during your ride, while the Smart Battery Management System closely monitors battery performance.

Maintenance
In comparison to Pneumatic tires (Inokim Light 2) where you need to make sure the air pressure is sufficient to travel, Solid tires (Segway Kickscooter ES2) would cost lesser in terms of maintenance.

Travel Safety
According LTA all Personal transporters should not travel more than 25km/h, however travelling in such a speed may damage your electric scooter when going in bumpy roads.
Segway ES2 with a degenerative and anti-lock brake system, to experience safe braking distance and to in addition a Segway ES2's Shock absorption feature on both its front and rear wheels to travel on bumpy roads without worrying that your personal mobility device may get damaged.
Bonus feature of ES2
Segway by Ninebot App
Yes, that's right Segway ES2 also comes with an app! Stand out from all the other E-scooter by using the Customizable feature on Segway ES2, where you can change the ambient lights to many make different combination and modes of lights.
Check your Statistics, get diagnostics about the vehicle condition and Lock your Vehicle with anti-theft. You can also use the app to find friends, track their rides and share in all sorts of fun.
Unfortunately, inokim light 2 do not have an app to connect to their EScooter.

What are you waiting for?
Get yours now! @ only $799 Now!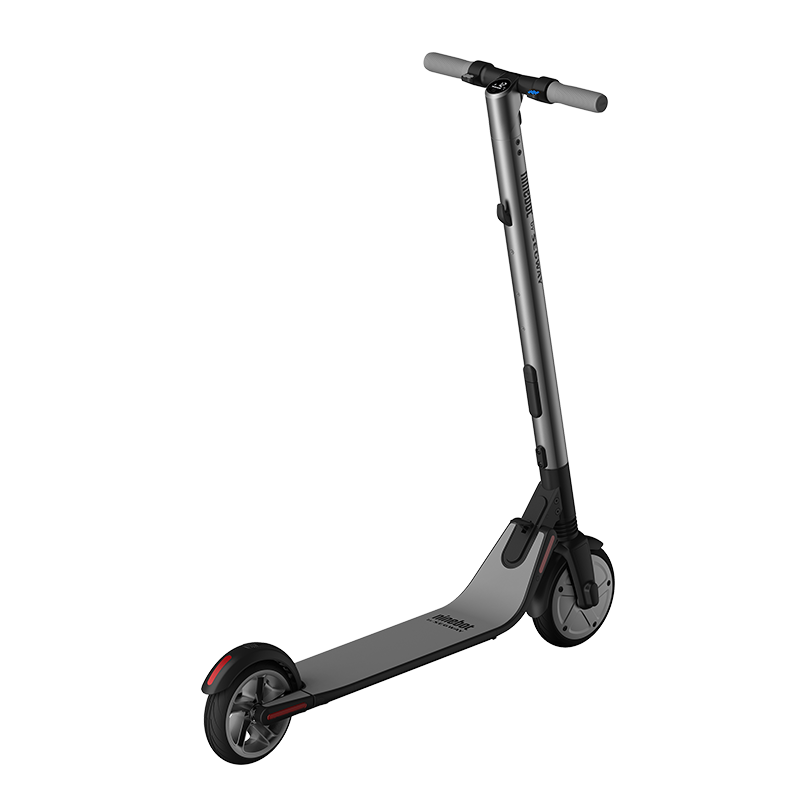 ES2 Scooter