The all new Segway ES2 KickScooter and DUALTRON I-S both hold dominating positions in the E-scooter market, but not sure which one is more value for money?
| | | |
| --- | --- | --- |
| Specifications | Segway ES2 | DUALTRON – S |
| Max Speed | 25 km/h | 25km/h |
| Net Weight | 12.5 kg | 19.5kg |
| Max Climb Angle | 10% | 15% |
| Max Weight | 100 kg | 120kg |
| Max Mileage | Approx. 25 km | Approx. 11- 13 km |
| Tire Type | Solid tires | Pneumatic Tires |
| Ambient Lights | Yes | No |
| LED display | Yes | Yes |
| Water Resistant | Yes | No |
| Additional battery | Yes | Yes |
| App Control | Yes | No |
| Brand Background | 17 years (Launched 2001) | 2 years (Launched 2016) |
| LTA APPROVED | Yes | Yes |
| Market Price | SGD 799 | SGD 1,549.00 |
*Other models of DUALTRON models (DUALTRON Ultra, DUALTRON 1.5 & DUALTRON II) were excluded as they did not meet LTA regulations.
Let's analyze it! ?
Speed
Just by looking at the speed, we can observe that both PMDs are similar in terms of speed. However what's that point of being able to travel fast when during wet weather you are unable to use your PMD? The Segway ES2 has Water Resistance capability of IP54.

Travel to your destination even during rain on the Segway Kickscooter ES2, without having to worry that your PMD may be damaged along the way!
Net weight
Won't having a PMD where you can carry around make travelling easier? Don't worry the Segway Kickscooter ES2 (12.5kg) makes it easier for you to bring It along with you while walking around malls or in MRT or even Restaurants.
Total Distance
With the amount of money spend you would expect yourself to travel long distance, right? And DUALTRON allows you to travel 13 km before you would require additional charge of battery but with ES2 you are able to travel up to 25km with a full charge and with additional battery you can times 2 your distance travelled!
Fun fact: The eco-friendly energy recovery system makes sure no power goes to waste during your ride, while the Smart Battery Management System closely monitors battery performance.
Up-close Design
Too expensive and time consuming to customize and stand out from other PMDs? Or worried modifying may affect the safety of your device? Don't worry!
Spend less time and money modifying your PMD when Segway Kickscooter ES2 design features ensures sleek, smart and comfortable way to travel.
Some Key Features
LED Front and Rear Light
Be seen and stay safe in low light conditions
Font and Rear Wheel Shock Absorption
Provides maximum rider comfort
Ambient Light
Match the ambient lighting color to your personal style and taste
LED Display
Show driving speed, Bluetooth connection, power mode and battery level
Electrical Brake
With anti-lock brake system for a safe braking distance
Mechanical Brake
Ergonomically designed for safe and easy braking
Large Solid Tires
Save time on tire maintenance
It all seems clear that the Segway ES2 is worth your interest, but if you are still not convinced, check out the additional Bonus Points for Segway ES2 below.
Bonus points:
Having no wires, the ES2's sleek design and its colorful ambient lights will make you stand out along the way!
Cruise Control for convenient longer distance travelling
Connect via Bluetooth to the Ninebot smartphone app

Lock your vehicle with anti-theft

Download the latest Firmware

Get diagnostics about the vehicle condition

Check your statistics

Use personal defined settings and change LED lights

Learn how to ride your vehicle

Social Network Platform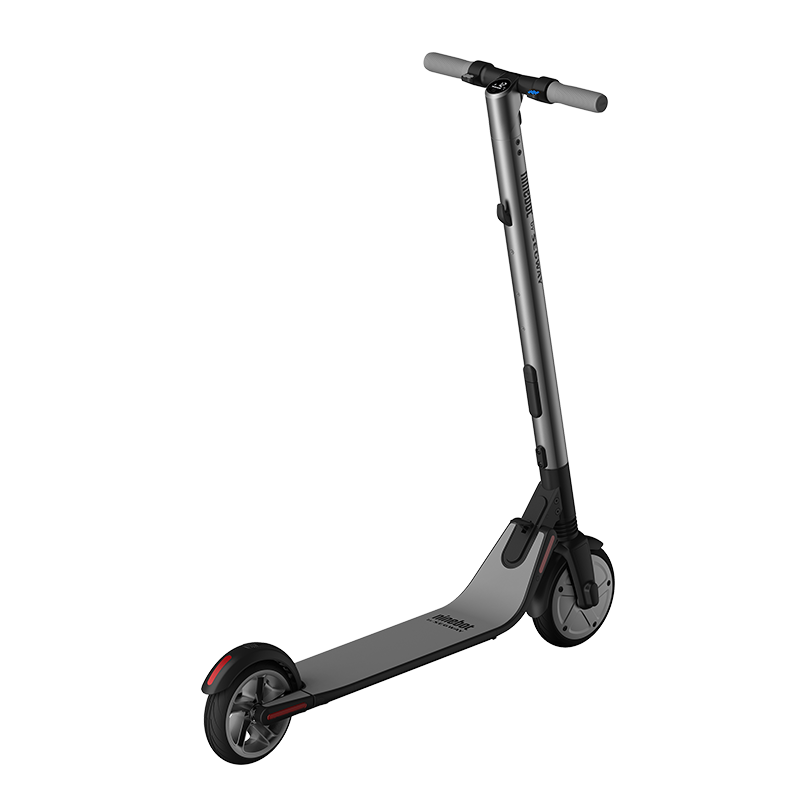 ES2 Scooter