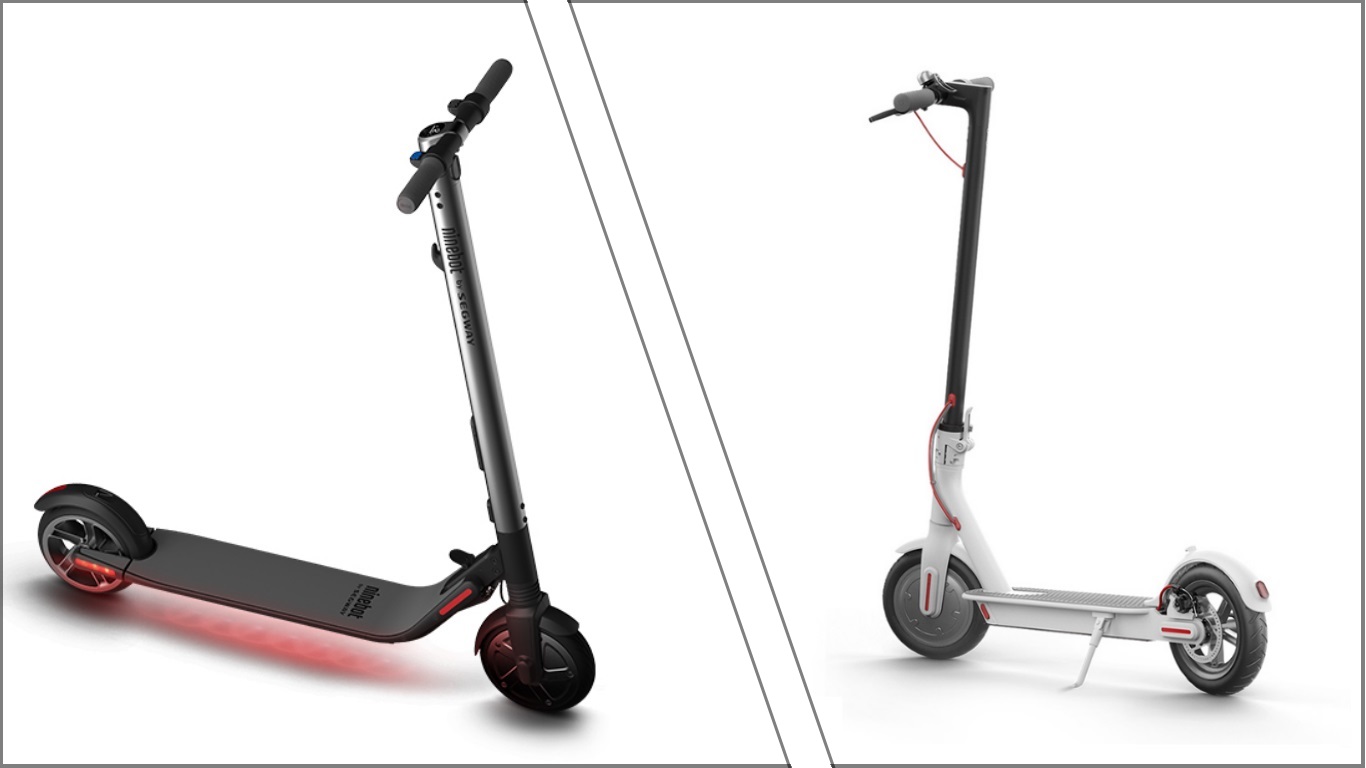 The first line of e-scooters from both Segway and Xiaomi, giants in the electric mobility market. Both models may seem staggeringly similar, although closer inspection reveals cardinal differences between the two, which we will conveniently run through for you in this article.
Speed and Mileage Editor's Pick: Segway ES2
A bigger battery is certainly an advantage, but it doesn't leave the M365 with anything but 5km of more travel distance and 2 more hours of charge time. Both scooters travel at a top speed of 25km/h and the ES2 certainly makes up for its mileage with its option for a secondary battery pack, nearly doubling its initial mileage of 25km. Both models do however, implement an energy recovery system; braking and moving downhill recharges battery. Depending on where you ride, your mileage may vary.
Comfort Editor's pick: Segway ES2
Riding across bumps and cracks, the M365 implements two pneumatic tires (8.5inches in diameter, front and back) which are designed to absorb shock on their own. The tires of the ES2 (front 8inches, back 7.5inches in diameter) however are airless and solid. They utilise front and rear suspension combined with their larger width size to mitigate shock instead and provide maximum rider comfort.
This places the Xiaomi scooter at a disadvantage because its tires are the pneumatic tires are susceptible to flats (techtablets.com, 2017). Without sufficient air, the M365's suspension capabilities would be reduced. The large, solid tires of the ES2 also place the Segway model at an advantage, saving you time on tire maintenance.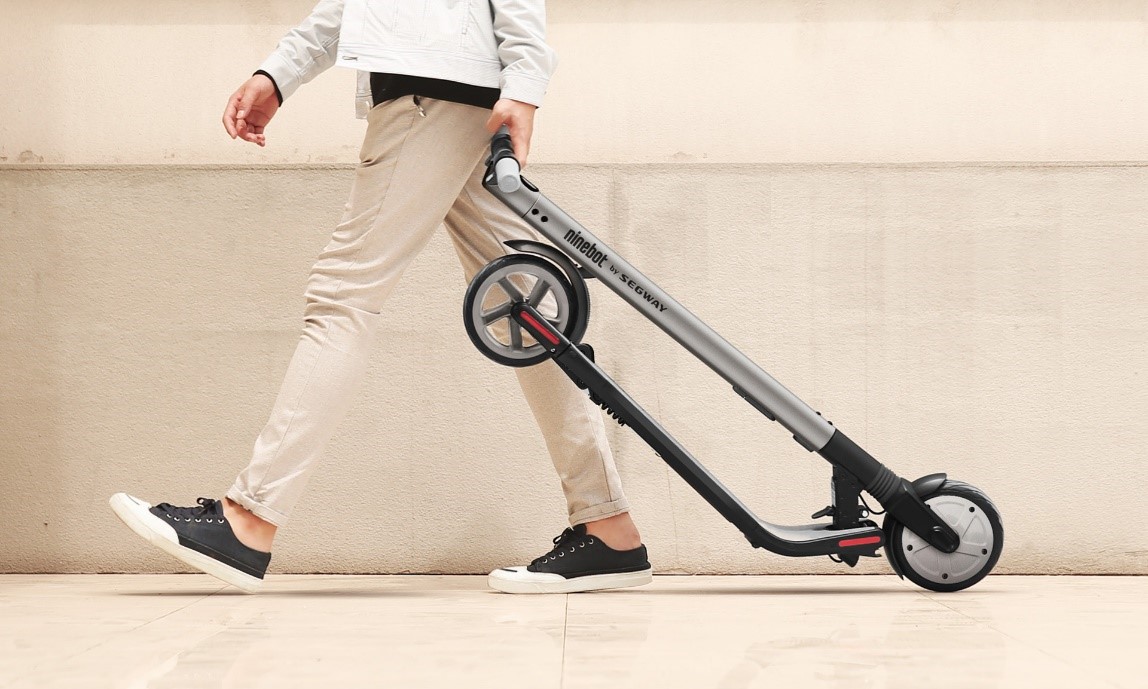 Portability Editor's pick: Segway ES2
While unfolded, the M365 is slightly taller and longer than the ES2. The Xiaomi scooter stands at 114cm from wheel to handlebar and is 108cm long from end-to-end. ES2 is only a centimetre shorter (113cm) and is 120cm long.
(Note that both scooters stand at a fixed height and handlebars are not adjustable)
Folded, the outcome is similar; the ES2 is more compact and easy to fold because of its one-touch (step-lever) folding system. The M365 requires adjustment by hand to fold and isn't designed to be ergonomically towed behind you like the Segway model and must be carried by hand.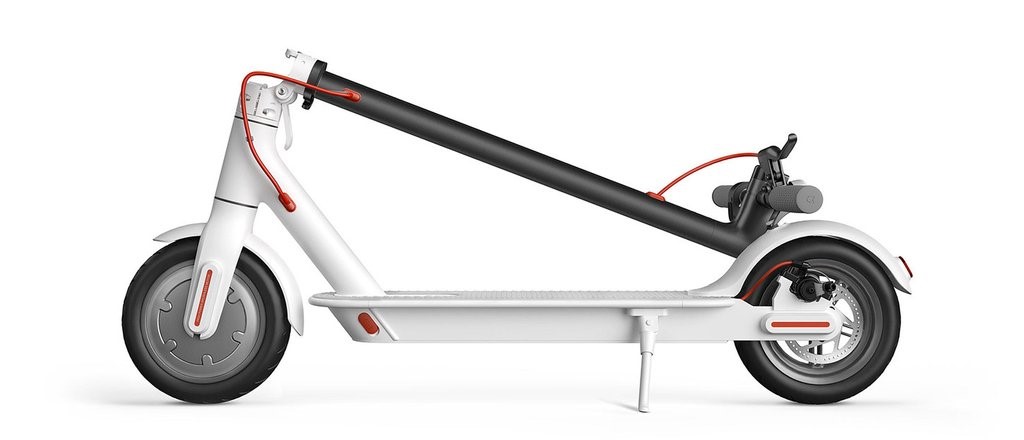 Display Monitor Editor's pick: Segway ES2
Fixed on the centre of each scooters' handlebar is a display module. However, they differ greatly between the two models. A full LED screen display indicates the speed, battery life, power mode and Bluetooth connectivity on the ES2. M365's display only offers battery life however, in the form of 4 vertically-aligned lights which turn-off in sequence accordance to its charge level.
If either display feels minimal, smartphone apps for both parties can be downloaded and synced with the scooters to provide in-depth information. (we'll talk about the app functionalities more later).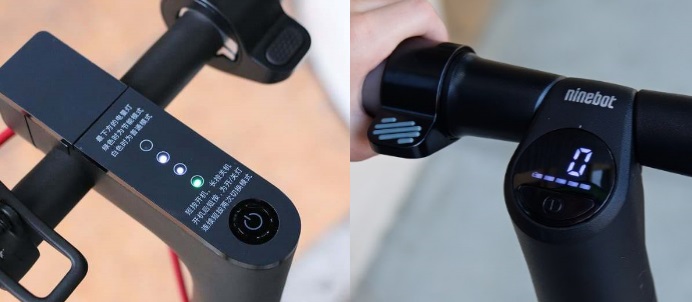 Brakes! Editor's pick: Segway ES2
A combination of two braking systems, electronic and mechanical are what stops the ES2. The electrical, anti-lock braking system on the front wheel allows you to break from a safe distance. What an anti-lock brake system does is prevent the wheel from suddely locking up (ceasing rotation) and skidding uncontrollably. It is operated from a small thumb-lever on the handlebar. The ergonomically designed mechanical step-brake over the rear wheel also comes in handy to make braking safe and easy (you just have to step on it to use it).
The M365 also sports a combined break system; a ventilated rear braking-disc and an electronic anti-skid (anti-lock) braking system on the front as well. The brakes can only be operated via the handlebar brake lever on the M365, resembling that of a traditional bicycle handle-brake. (The M365's brakes do their job, but according to a review from techtablets.com (2017), their braking-disks can become unaligned, causing malfunction.
Security Editor's pick: Segway ES2
You have to secure your e-scooter when leaving it unattended. On top of traditional 'bike locks' that can bind scooters to posts or fences, Segway has implemented their smartphone app to remotely lock the ES2. The lock can only be disabled via the app, rendering the scooter inoperable until only you unlock it. Unfortunately, Xiaomi does not provide a lock function from their app.
Smartphone App Editor's pick: Segway ES2 (Ninebot by Segway app)
We've mentioned elaborating further about the features in the smartphone apps available.
The M365 will connect to the Xiaomi app, MiHome via Bluetooth, but there can be problems connecting if you do not indicate your region as China on the app. The MiHome app allows you to:
View real-time speed information

Manage acceleration options

View distance travelled and other mileage information

Check the battery level

Toggle cruise control

Update app firmware
There isn't as mentioned, a 'lock via app' feature available in MiHiome unfortunately.
Apparently, the Xioami M365 can also connect with the Segway app, Ninebot by Segway (We're unsure if the opposite is possible). Utilising the Segway app will provide the same information and features as the MiHome, except for that lock.
The Segway Kickscooter ES2 also utilises Bluetooth to connect to the Ninebot by Segway app, which contains:
An Anti-theft lock to secure your scooter (only unloackable via app)

Real-time monitoring of speed, mileage and battery information

View statistics about ride history

Manage cruise control settings

Instructions on how to ride

Regular firmware updates

Colour controls for ambient rear lights
The app also serves as a social networking platform, connecting you to people who also utilise the Ninebot by Segway app around the world and the latest Ninebot and Segway news.
Below we've listed down the key features for the Segway KickScooter ES2 & Xiaomi Mijia Electric Scooter M365.
| Segway KickScooter ES2 | Xiaomi Mijia Electric Scooter M365 |
| --- | --- |
| Silver handlebar frame and black base. Detachable handlebar | Black handlebar frame and black or white base |
| Battery & motor inside handlebar frame | Battery & motor inside base, underneath foot platform |
| Sleek, ergonomic design | Blocky, rigid design |
| Front LED headlight | Front LED headlights |
| Front and Rear LED brakelights. | Rear LED brakelight |
| Ambient LEDs underneath foot platform. | |
| One touch step-lever folding system | Hand operated lever folding sytem |
| LED display screen for speed, battery level, power mode, Bluetooth status | 4-LED-light display for battery level |
| IP54 Waterproofing | IP54 Waterproofing (power button not waterproof) |
General Specifications
Segway KickScooter ES2
Xiaomi Mijia Electric Scooter M365
Power output
300W
250-500W
Battery
187Wh
280Wh
Charging time
3.5hours
5.5hours
Tire Diameter
8 inches (front), 7.5 inch (back)
8.5 inches (front & back)
Dimensions
1020 x 430 x 1130mm (unfolded)
1080mm x 430mm x 1140mm (unfolded)
Max climb angle
Approx. 10°
14°
Max mileage 25km
(up to 45km with secondary battery)
30km
Max speed
25km/h
25km/h
Max carry load
100kg
100kg
Weight
12.5kg
12.5kg